Simon Edge wasn't what I expected; knowing that he'd lived in Gaza and had been a national newspaper journalist for decades, the character that had formed in my mind was of a spikey and combative hard-bitten hack. In fact, Edge is witty and talkative, with a disarming warmth and an easy charm.
Edge's fifth novel, The End of the World is Flat is a satirical take on Stonewall. A light read about a dark subject, the novel draws a parallel between the flat earth movement and the current brand of trans activism. Edge tells me his starting point was not transgenderism, but the beliefs of flat earthers.
"I found myself wondering, does anybody really believe in Flat Earth theory? I was interested in the history of the idea. In the gender critical world people quite often use 'Flat Earther' as an insult."
There's a lively academic debate about cartography and how countries are represented. Edge recalls as a student in the 80s many of his peers had politically correct 'non-Mercator projection maps' Blu-Tacked to their walls to show that they were progressive. There's also a model known as the 'Orange Peel Map' a two-dimensional depiction which accounts for the curvature of the globe. Edge began to imagine; how could people's desire to be seen as virtuous be twisted into support for something ridiculous.
"I started to run with the idea. I wondered, what if you really were going to try to convince people by stealth that the earth is flat? The idea is no different in silliness to trying to convince the world that there are a hundred genders or that biological sex isn't real."
"If somebody came to you and said 'we want to hire you to do this even though you don't believe in it, we're going to really make it worth your while' – what would you do? What would you go through internally? What would it be like for your staff? There might be some who are horrified by it. There might be others who are too dumb to notice. And then there would be people who go along with it and end up being convinced by it without really thinking it through."
The End of the World is Flat follows this process to its logical conclusion, to ends that are unnervingly familiar. Edge's novel offers a plausible, if simplified, explanation of how we have arrived at a point in history where the word 'woman' is considered offensive. In the book, it is the word 'global' that is forbidden.
Edge seems to know everyone. A friend of former Stonewall chief executive Ben Summerskill, he first saw Ruth Hunt speak when she was his deputy. He recalls being impressed by her, mentally picking her out as a character to watch. He confides that he "really wants to like her, to believe that Ruth is a good person" but that he is "totally baffled by what's going on in her head."
"What was so terrible about the things Hunt presided over during her time at Stonewall, is just how fantastically competent she's been."
Stonewall was a part of Edge's own history, and he is angry at how such a great legacy has been squandered.
"Everyone talks about Section 28 but Stonewall did so much more. It got an equal age of consent, repealed the gross indecency laws and abolished the legislation that you could get sacked from the armed forces and the diplomatic service. Stonewall secured employment protection rights at work, adoption rights and fostering rights. The changes made would've seemed unbelievable in the mid-nineties. All of that happened under Angela Mason and was continued by Ben Summerskill."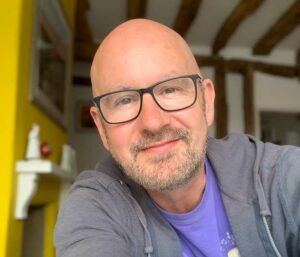 Stonewall was a part of Simon Edge's own history
"It's just bizarre that Stonewall today are complicit in saying that there is something bad about same-sex attraction. They are up to their necks in promoting a social contagion, in encouraging a mindset that sees teenage girls who would probably grow up to be lesbians undergoing double mastectomies."
"I want to ask the question – what the hell is going on in people's heads? I don't think they're sitting there cackling, I imagine that many will be swept up in it and telling themselves it's the right thing to do."
"So few people within the 'LGBT+ professional machine' ever question what they're doing – all their friends are telling them it's the right thing to do. And once you've got your opponent, then it's much easier – you can convince yourself and your staff that you're the little guy and everybody else on the outside hates you."
Unlike the protagonist in the book, who agonises before talking themselves into a Faustian pact, Edge says if he were offered money and fame to betray his values, he hopes he wouldn't.
"I took a big pay cut to go and work for Capital Gay. I was a senior writer at Middle East Economic Digest, and my editor was horrified when I went to work as news editor at a free paper that had sex ads in the back."
It was twenty years after Capital Gay had folded, when Edge was working for the Green Party, that he first became aware that something strange was going on. Edge was bemused to be informed that official Green Party policy was to use the acronym 'LGBTIQA+'.
"The LGBTIQA+ national spokesperson was Aimee Challenor. I was disturbed that an 18-year-old who clearly had no interest in or knowledge of the lesbian and gay struggle was in such a senior position. It felt like the party was belittling everything I'd fought for in my adult life. When I challenged the alphabet soup crap, I was publicly shouted down mostly by straight people. It was one of the reasons I left the Green Party."
Challenor identifies as a woman and was a rising star in the Green Party when, in 2017, he appointed his father, David Challenor, as an election agent. At the time of the appointment, David was on bail, charged with the rape and torture of a 10-year-old girl, in the attic of his family home in Coventry. He is now serving a 22-year prison sentence.
"Gradually the penny dropped that Stonewall weren't going to step in and restore sanity, but they were actually the nerve centre of the lunacy."
Edge left the Greens to join the Liberal Democrats where he hoped "to find a saner home." Coincidentally, Challenor defected to the Liberal Democrats at the same time.
"At that point, I still thought Stonewall would have the authority to call the nonsense out, and I was shocked to find that Aimee Challenor was on their trans advisory board. Gradually the penny dropped that Stonewall weren't going to step in and restore sanity, but they were actually the nerve centre of the lunacy. Looking back, it's perhaps surprising it took me so long to realise they backed this new ideology to the hilt, but I did genuinely believe Stonewall were the grown-ups. How wrong I was."
Edge believes that the current movement to obliterate biological sex is part of a wider culture war that's been imported from the US.
"The obsession with taking a lead from the United States on everything is really damaging, particularly when the US bears the most hideous, distorting racial scars. In the UK we don't have the same legacy because we are not a country founded on slavery, but we're being encouraged to believe we have exactly the same scars. Many of those attacking JK Rowling have 'BLM' in their bios, while also coming out with racist claptrap equating black women and transwomen, or suggesting that most of the world didn't know the difference between men and women until Europeans arrived."
"It's not an original thing to say, but the old ideas of left and right, the old certainties, are no longer reliable. There are new alliances where you find you agree on some issues with surprising people."
"Because I'm politically on the left, I'm very conscious of its flaws. One thing that drives me mad is that the left tends to say the right has invented the culture wars. But it's the posturing of the left, their tribal divisions, that are making things worse."
"Take the Green Party restricting membership to those who believe transwomen are women. That's fundamentally divisive; it's pitching a tent on the battlefield of the culture war. I think they did it to hoover-up votes from dispossessed Corbynites. Ultimately, the Tories don't need to do anything to stay electable – you can't blame them for exploiting the situation when the left is tying itself up in knots."
Once, Edge was concerned that achieving legal parity might spell the end of the gay novel. Perhaps in some respects it has. But in writing The End of the World is Flat, the first novel to explicitly take aim at transgender ideology, Edge has taken a significant step – not just in literature but in history.
Years of working as a journalist have given Edge a keen political and cultural insight. He believes the disruption caused by social media has not only allowed people to share bizarre ideas, it has primed them to accept abject nonsense. Accordingly, The End of the World is Flat details the role of bots in opinion-forming, and witty passages throughout relay very familiar exchanges on Twitter.
"I hope this book will resonate with people who followed these debates, some of whom will recognise direct quotes. It's also meant to be a distillation of the lunacy of Twitter for people who don't know about it."
Once, Edge was concerned that achieving legal parity might spell the end of the gay novel. Perhaps in some respects it has. But in writing The End of the World is Flat, the first novel to explicitly take aim at transgender ideology, Edge has taken a significant step – not just in literature but in history.
"When I did my MA in Creative Writing 20 years ago, I wrote my dissertation on gay fiction. I would like this novel to be seen as part of that canon. My contribution is to attempt to make things a little bit clearer, to make it entertaining and to dramatise the mechanics of ideological capture. I hope this book will make the situation a little bit more graspable, and perhaps the battle itself, a little more winnable."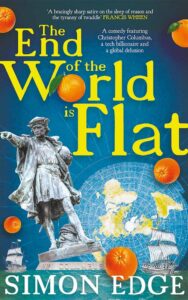 The End of the World is Flat is out now on Kindle and is published in paperback on 16th August by Lightning Books. 
The End of the World is Flat is available in paperback from Amazon from 9th August and you can pre-order here: https://www.amazon.co.uk/End-World-Flat-Simon-Edge/dp/178563240X