The Conversation is a safe and secure online meeting place for Lesbian and Gay News readers. It is an opportunity to connect, to debate, to share your interests and to make new lesbian and gay friends and contacts. Many of our writers are members and so it's a good way to message them directly too. David Bridle, the founder of LGN, explains what The Conversation offers.
COMMENT ON ARTICLES
As a subscriber to The Conversation you are exclusively able to comment on articles on Lesbian and Gay News in the area below the story. Only subscribers are able to do this. It's a great way of adding your personal views to an article and of thanking, or disagreeing with, our writers directly.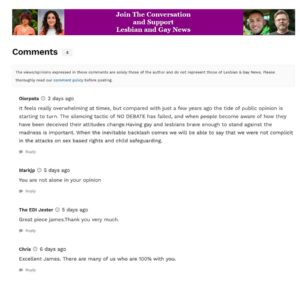 START A DISCUSSION
"Conversations" is our forum area where you can start a discussion on any interesting topic and then other LGN subscribers can then contribute their opinions and ideas. We have a big range of topics – all with subcategories – including lesbian and gay rights, policy and law, political campaigning, lesbian lives, gay lives plus arts areas like books, film and theatre. We even have shared activity topics like holidays, exploring and places. If there is a subject you would like us to add to "Conversations", please just email us. One of our LGN subscribers has started a discussion on gardening – so if you have green fingers do please contribute!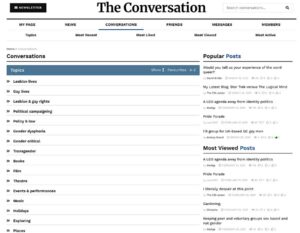 YOUR CONVERSATION PROFILE
As a subscriber you automatically have your own profile on The Conversation. You do not need to use your real name. Twitter handles and pseudonyms are absolutely fine and our system allows you to write these in in place of your full name. If you don't upload a photo of yourself, your initials will appear in the profile photo box. We do understand if you don't want to put a photo up but remember you can upload any picture such as a favourite historical person, a place you like going, a plant, flower or animal you like, and so on. Also we'll add a cover photo to your profile if you don't add one yourself.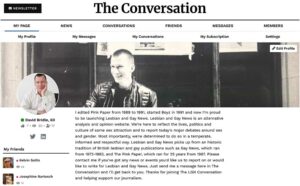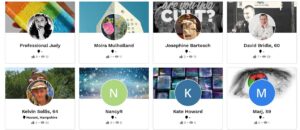 YOUR OWN TIMELINE
Your profile has its own Timeline where you can post articles from websites and news outlets or share videos which interest you. You can comment on issues in the news or write longer blogs expressing your views on a particular topic. With Lesbian and Gay News readers, you can be sure of an interested readership.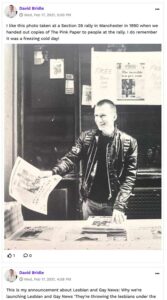 MEETING OTHER LESBIAN AND GAY NEWS READERS
We think The Conversation could become a great place for lesbians and gay men who share similar viewpoints to connect and even meet up in real life. We all need friends and sometimes if you take a gender critical position, it can be tough to find fellow soulmates. We hope The Conversation will be an online space in which you feel safe enough to reach out to others. You can message other Conversation members through our private messaging system.  
If you'd like to comment on articles or thank our writers please join The Conversation.
The Conversation area of Lesbian and Gay News can only be accessed if you are a signed up subscriber. Our subscription plans are £15 for 3 months, £25 for 6 months or £40 for one year.
The Conversation is fully password protected.
If you would like to join The Conversation please sign up here: https://members.staging.lesbianandgaynews.com/sign-up