Sonali Fernando speaks to the former Channel 4 commissioning editor who, from 1985 to 1995, staged a quiet revolution in the depiction of lesbians and gay men on the screen.
Like most gay people in 1960s and 70s Britain, Yorkshire-born Caroline Spry grew up without role models or a blueprint for her adult life. Same-sex desire was hidden from view, society's  embarrassing little secret. On TV, gay content amounted to a few camp guys doubling their entendres in Light Entertainment and a handful of films about tormented men, usually played by Dirk Bogarde, or co-dependent lesbians in sensible shoes, who were disgraced or killed off after a sad spree of predation and joyless sex.
Aware that she liked girls from an early age, but with no vocabulary or imagery to describe it, teenage Caroline was bemused: "I was fairly tomboyish, and there was certainly, in my circle, no concept of homosexual, so I thought: 'What is this? Am I a boy?'" Now in her 60s, Spry laughs as she recalls her younger self sticking a magazine photograph of Kiri Te Kanawa on the front of a school book in the hope her friends would notice. "It was mad – I knew nothing about her and nothing about opera! But I thought she was gorgeous and it was my attempt to say: 'Look, look, look!' But no one said a thing…"
At the age of 15, she found a clue in an American magazine in her parents' newsagent's shop: an article on gay people. After poring over every word, she walked into a bookshop near home with a pair of sunglasses on, and spent her pocket money on a Pelican paperback about homosexuality. "Reading that book, I worked out that it was all fine. I wasn't a boy after all! I was a lesbian! But there was no question of coming out at that time. I mean, forget it. In my environment you didn't even think about it. There was nothing that told you what your future might be."
She had populated our screens with hundreds of living, breathing, actual gay men and women talking about the things that mattered to them, in place of the stereotypes and silences that had gone before.
By 1995, two and a half decades after her teenage quest for lesbian and gay imagery, Caroline Spry, now a senior executive at Channel 4 Television, had commissioned and scheduled over 100 hours of lesbian, gay and feminist programmes across ten separate series and one-off broadcasts. She had populated our screens with hundreds of living, breathing, actual gay men and women talking about the things that mattered to them, in place of the stereotypes and silences that had gone before.
Pulling off this feat was breathtakingly audacious. Britain in the Eighties was in the twin clutches of the most right-wing government in history and the HIV/AIDS epidemic. Politicians' blaming and shaming of gay men for the disease, abetted by the press, unleashed an orgy of homophobia on the street. Queer-bashing became a brutal, if humdrum, fact of life. Three-quarters of the population in the 1987 British Social Attitudes Survey said that homosexuality was "always or mostly" wrong – including 61% of Conservative voters and 67% of Labour voters. The head of Greater Manchester Police Force described people with HIV and AIDS as "swirling around in a human cesspool of their own making". Meanwhile, lesbians were being monstered in the tabloids as they fought battles over child custody, IVF and adoption.
Channel 4 landed in this fetid landscape in 1982 like sunshine and fresh air, with an explicitly progressive mission to include the voices that the other broadcasters kept out. Caroline Spry joined the channel as a commissioning editor in 1985, fresh from making documentaries as a producer, camerawoman and director. Having studied film at London College of Printing in the 1970s, she had gravitated to the idealistic, roll-your-sleeves-up-and-get-things-done world of second wave feminism via the London Women's Film Group ("I felt I'd come home"), coming out as gay and, in 1979, co-founding the women's film distribution collective, COW (Cinema of Women). She was determined to use her new role to continue lifting up the work of socialist and feminist filmmakers – but now on mainstream television.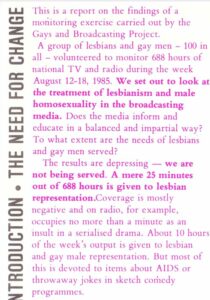 Are We Being Served? report on gay representation in broadcasting, 1985
Among the people knocking at her door was Mark Finch, a film programmer who would later co-found the London Lesbian and Gay Film Festival (which has since morphed into the LGBTIQ+ Film Festival, BFI Flare). Finch had contributed to Are We Being Served?, a report on the abysmal state of lesbian and gay representation in the broadcast media: analysing 688 hours of national TV and radio in one week in August 1985, the report showed that television gave just ten, exclusively negative, hours to homosexual representation, most of it referencing gay men in relation to AIDS or as the target of jokes, with a paltry 25 minutes going to lesbians. Finch proposed to Spry, who had been trying to persuade Channel 4 executives to respond to the Are We Being Served? report and the growing clamour for gay programmes, that they broadcast a lesbian and gay film festival on TV. The channel was nervous, wanting to integrate gays discreetly into the schedule rather than risk tabloid crucifixion with an exclusively gay season. But Spry realised, astutely, that curating a set of lesbian and gay films was the ideal way to test the water for the more upfront series that could come next. 
Channel 4's Chief Executive, Jeremy Isaacs, agreed to broadcast the pioneering lesbian and gay season – which included The Life and Times of Harvey Milk, Buddies and Mädchen in Uniform, and was to have been called In the Pink. But as soon as the channel started publicising the season, the tabloid attack dogs came in for the kill. "How dare you?" screamed the headlines. The morality campaigner, Mary Whitehouse, wrote to Isaacs to complain that, in light of the AIDS epidemic, it was disgraceful to show positive images of homosexuality. Such was the channel's terror of negative feedback that it put its landmark gay event on air without fanfare or a title.
"We weren't allowed to say: 'This is a programme about gay and lesbian people for gay and lesbian people,'" says Spry. "We had to say: 'This is a programme that may be of interest to homosexuals.'"
Among the films she scheduled was Kenneth Anger's Scorpio Rising, "a pretty full-on gay film," which was edited after being vetted by an eagle-eyed censor at the Independent Broadcasting Authority: "We had to take out a very, very short shot of an erect penis. Someone was really looking at this film because the shot was only about 5 frames long."
Spry recalls that, even in this bowdlerised state, the film had to be prefaced by a solemn on-air content warning: "The introduction said it was by Kenneth Anger, 'whose own particular view of some of the facets of homosexuality you may find distasteful.'"
After taking such pains to appease the hordes of imagined critics, no one at Channel 4 was prepared for the praise. Approval metrics were off the scale. The overwhelmingly positive duty logs – the written records of phoned-in audience comments – after the transmission of The Life and Times of Harvey Milk were the longest in the channel's history. The festival with no name had revealed massive audience demand. Channel 4 bosses were stunned.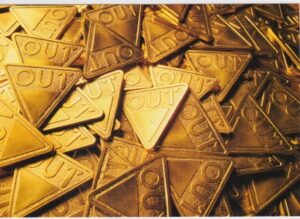 OUT on Channel 4 © Alfalfa Entertainments
"It was a real moment of them thinking: 'Actually, the heavens haven't fallen in, we've shown this series, and even though we've not quite been saying it's a gay and lesbian thing, loads of gay men and lesbians are ringing in to say 'We love this!'"
It was now clear that there had to be a gay series. It was just a question of how. Roll on another couple of years of dithering, during which time lesbians and gay men of every political flavour were uniting in outrage against Section (then Clause) 28 – and finally the channel was ready. Here was a once-in-a-generation opportunity to transform gay people's on-screen representation, and ultimately their acceptance in society. "I knew this was the chance," says Spry, "the one moment, probably for a while, when this was going to happen." She also knew that, as the only out gay person among the commissioning staff, the hand of destiny had just tapped her on the shoulder. "I had this overbearing sense that this is what I had to do, and I have to say I was very reluctant. My immediate reaction was yes, we've got to do this, but oh my God!"
Out on Tuesday, as the UK's first national lesbian and gay TV series was called, finally came to our screens in 1989, a full seven years after Channel 4 was established.
The first of many uphill tasks was to work out how to represent a culture of disparate gay people, with tribes ranging from separatist lesbian feminists to S&M leather men, gay vicars to anarcho-punks, in a format that would work on mainstream television. How could this community-that-was-not-one ever be served?
Spry opted for a "multiple input" approach – current affairs and cultural films of differing lengths, tones and styles – made for and about gay men and women, and for the most part by them too. Spry credits Abseil Productions, the independent company run by Clare Beavan and Susan Ardill that she contracted to produce the first two series, with the "genius" idea of asking newly out celebrities such as Ian McKellen, Richard Coles, Lily Savage and Matthew Parris to host the links and introductions. The series packaging was quintessentially Channel 4 in style, its playful, witty graphics and zine-influenced visuals linking it to programmes like The Media Show and Rapido.
Out on Tuesday, as the UK's first national lesbian and gay TV series was called, finally came to our screens in 1989, a full seven years after Channel 4 was established. It ran for four years, changing its name to Out part-way through, and then, after a break, another year in '94. After consistently high ratings in its 11 o'clock slot, it moved to 9 o'clock for the second series, becoming appointment-to-view television for between 700,000 and a million viewers every week. One review described it as "the most stylish programme on television in 1990".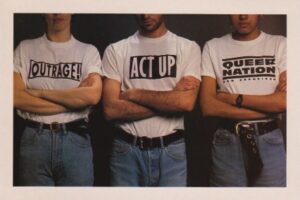 Publicity still for Over Our Dead Bodies, OUT 1991, Dir. Stuart Marshall, Maya Vision
The episodes freewheeled through an ever-changing landscape of 80s and 90s gay life: the lesbian Country and Western scene, butch/femme relationships, dyke detectives and opera queens; gay legal rights, death in the era of AIDS, gay Tories and filmic depictions of public school romance; Amnesty International's misstep over homosexual prisoners and gay stereotyping in Hollywood; a history of the gay liberation movement and another on gay life in London from the 1940s to 70s. Out even featured a one-hour special on older lesbians – a television first – and a follow-up with the contributors a year later. Each series embraced a range of genres, from straightforward factual programmes to stylised documentaries, short dramas to experimental, lyrical works such as Isaac Julien's Looking for Langston.
Out was, above all, a place for debate. Dissent was allowed and plurality welcomed. "There were people on the right, there were people on the left; there were different lifestyles; there was a whole lot of work around race; there was a programme about gay skinheads. We did a film on the difficult relationship between gay men and lesbians, which got a lot of pushback. And after the programme on same-sex marriage, we hosted a debate, asking 'Do we want gay marriage?', followed by a vote." Interestingly, says Spry – who is happily civil-partnered and says "There's no way we're gonna get married!" – far more gay men than lesbians wanted same-sex marriage.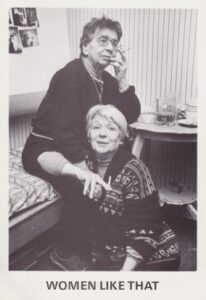 Publicity still for Women Like That, Out on Tuesday 1990, Dir. Suzanne Neild, Clio Co-op Productions © Brenda Prince  
By 1994, Spry saw the writing on the wall as the channel moved to the more lifestyle-oriented, depoliticised platform it is today. It was her cue to stop Out and, for her swan song, launch her most radical programmes yet: two exclusively female series, Dyke TV and First Sex.
Having worked quietly and tenaciously for a decade, never courting publicity, she came briefly onto the tabloids' radar with Dyke TV. The Daily Mail, oozing a homophobia that was not so much dogwhistle as foghorn, wrote a (largely fictional) profile of Spry, berating her for the deadly sins of wearing "round steel glasses" and coming from "that narrowest of cliques – that of metropolitan lesbians".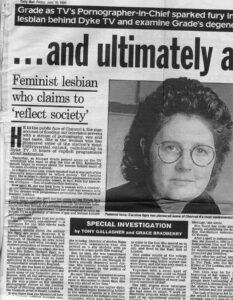 Vintage homophobia and creative fiction in the Daily Mail, 1995
The lasting impact of Out, Out on Tuesday and Dyke TV on the trajectory of gay politics in Britain cannot be overstated. "The series gave gay and lesbian people a visibility – who we were, what we were doing, what was going on," says Spry. And once Channel 4 had broken the ice, other channels followed. The BBC launched a series called Saturday Night Out (also produced by Abseil), which in turn paved the way for the dramatisation of Sarah Water's Tipping the Velvet and gay characters in dramas and soaps such as This Life, Brookside and Queer as Folk. It became normal to see down-to-earth depictions of gay men and women in prime time, as ordinary people getting on with their lives. In this way, Channel 4's brave lead helped enable the political shifts of the 21st century, making civil partnership thinkable and putting equal marriage within reach.
"It absolutely changed representation on television. There was a sea change in what you could do. But I don't think you can say that television alone changed it: it was a crucial part of the whole project we all had at that time to try to make ourselves more visible and change legislation."
Twenty-five years on, what does she make of lesbian and gay representation on TV now?
"There is more visibility," she says, noting that there are now out gay characters in cookery shows, lifestyle programmes and quizzes, along with a small number of overtly gay dramas like It's a Sin and Gentleman Jack: but there are "huge silences surrounding contemporary lesbian and gay politics." She notes that all the documentary output at this year's BFI Flare LGBTIQ+ film festival was either trans-related or historical: the only factual programmes about lesbian and gay life were set in the past.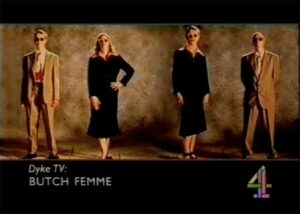 Channel 4 presentation slide for Butch Femme, Dyke TV 1995. Dir. Emma Hindley, Polari Productions
"We need films about the issues that matter to lesbians and gay men now," she says, arguing that today's 'LGBTQQIAAU+ community' (the Endless Acronym, as she calls it), and the hegemonic multi-million pound "queer" organisations that claim to speak for everyone while silencing dissent, would do well to learn from the tolerant and pluralistic way gay people worked things out in the past: "There are clearly differences, absolute contradictions, within the LGBTQ+ world around rights and politics, but we're not allowed to talk about them. We need films asking why so many detransitioners are lesbians who, like me, were tomboys who lacked lesbian role models. We need films about the complete annihilation of lesbian culture. If Out or Dyke TV were around now, they would be saying: 'Why is it that children and teenagers who are potentially going to grow up as gay or lesbian are being told that actually, because your behaviour isn't gender-conforming, it's fine for you to go on puberty blockers? Why is the organisation that was supposed to represent us changing the definitions of gay, lesbian and bisexual without any conversation with anyone outside?'"
As the saying goes, those who forget the past are condemned to repeat it. "Without history, we're lost," says Spry. "We have the same debates again and again, and we make the same mistakes. It's really important to see where we come from." Three decades after changing the face of British television, she wants Channel 4's record of an important slice of 20th century lesbian and gay history to be made available to the public. Though master tapes of the programmes have been hard to find, she now has copies of many of the Out and Out on Tuesday programmes, digitised from off-air VHS tapes which, fascinatingly, still have their original 1980s and 90s trailers, links and commercials attached. It's a fantastic archive: a record of an exciting time of activism, unity in adversity and meteoric political change. Spry is now working with others to find a permanent home for these trailblazing series: a gift to the people who took part in the joy and struggles of that vibrant time, a resource for those who didn't, and an heirloom for young lesbians and gay men today who have been cut off from their past and, like the teenage Spry, are casting around for answers, role models, and a place to belong.
Recordings of Birkbeck University's 2019 event about Out and Out on Tuesday are available here: http://blogs.bbk.ac.uk/bimi/2020/11/09/video-recordings-of-the-event-remembering-channel-4s-out-on-tuesday-queer-spaces-in-public-service-television-november-2019/
Top image of Caroline Spry, 2021 © Elizabeth Woodcraft
Sonali Fernando is a filmmaker and writer.