As a lesbian I know that we are at war and on the frontline. I thought it was time to assemble the troops and take stock. Knowing how vital the battle is to prevent the inclusion of gender identity in the proposed ban on conversion therapy, I decided the time was right to argue from a specific lesbian perspective. So I started talking to lesbian groups and individuals about coming together as a coalition to work on the conversion therapy consultation.
Two weeks ago I convened a Zoom for eleven lesbians who had responded to my initial conversation. I should have known that throwing eleven lesbians into a cauldron and giving it a stir – with clear intention – would have created powerful magic.
I was right.
Two weeks later, last Tuesday teatime, "Lesbian Fightback" took to Twitter complete with a logo and a very clear opening message. 
Not quite five days later we have 2905 followers and an absolute outpouring of support, solidarity and defiance.
Here's what we said:
Lesbian Fightback is a coalition of lesbians resisting erasure
"Lesbians of all ages have had enough! We are fighting back and resisting erasure. We know who and what we are. We're not a porn category. We're not men. We are women loving women, celebrating being lesbians and having fun! Join us."
We have had responses from relieved lesbians, Gays against Wokery, straight sisters standing up and being counted and straight men too. No-one is fooled by the current narrative. We certainly aren't.
There are signs that the Government isn't either. 
This week's decision to prolong the consultation period shows that they clearly understand the inherent contradiction in putting the black and white issue of gay conversion therapy together with the amorphous, nebulous issue of gender identity. The two need to be dealt with separately.
Meanwhile the troops are gathering, the cavalry has arrived – I have exhausted my military metaphors and someone somewhere just tweeted:
"I'm here in solidarity. All women are being erased but lesbians are having it worse than the rest of us. Sisterhood is strength."
The 'Fightback' has begun.
Join us.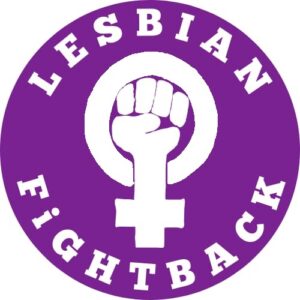 You can follow Lesbian Fightback on Twitter at https://twitter.com/LesbianFB