Standing-up at the recent LGB Alliance conference, Julia Long asked:
"Is there such a thing as a gender identity moderate?"
The exchange she subsequently had with Dr Jane Clare Jones has continued to provoke debate across social media.
To some Long is a notorious extremist – it is fair to say whether leading a crowd in song or challenging politicians she doesn't mince her words. To others, she's a truth-telling heroine. I spoke to Julia for Lesbian and Gay News to find out more about her life as a lesbian separatist and how she came to prominence within the feminist movement.
It was at university in the 1980s where Long first became aware of radical feminism and the writing of Andrea Dworkin, Mary Daly and Audre Lorde. She considers herself "fortunate" to have studied during this brief window when women's liberation was on the curriculum.
"One of my lecturers, a woman called Susanne Kappler, wrote a brilliant book on pornography called the Pornography of Representation and I was being taught by her at the time that book came out – I think that was one of the books that really had a big impact on me. That was where I first encountered radical feminist ideas and then it's kind of followed from there."
"I've done lots of different things including teaching in a sixth form college and also in an academic context. I've worked in local government and spent two years as senior researcher on the Femicide Census. Today, it's become really difficult to find areas of employment where women's feminist knowledge and experience can be usefully employed."
It was over a decade ago when Long moved to London got involved with London Feminist Network and groups including Object. Long's book Anti-Porn: The Resurgence of Anti-Pornography Feminism documents feminist activism during this time.
"One of my favourite actions was the conga-line around Tesco. Tesco had banned people from shopping in their pyjamas but were stocking pornography. So, we all put on baggy pyjamas and dressing-gowns and did a conga-line down the aisles, whilst singing 'let's get rid of lads' mags.'"
But soon the spectre of transgenderism began to raise its head, the feminist movement began to split and it became increasingly difficult to organise women-only events without being accused of being exclusionary.
"Rad Fem 2012 was the first conference in years to be explicitly women-only; we made it very clear on the website. We came under siege both from feminists in the UK and from transgender activists across the world. We were turned on and denounced; it felt as if everyone was either against us or silent."
"I received emails telling me that I was damaging the feminist movement for daring to organise a women-only event. Since, some of those who sneered at the women-only policy have become prominent so-called 'gender critical' feminists. Looking back, whilst it's great that a feminist consciousness has developed there has been a lack of accountability regarding those who colluded against radical feminists at the time. It would be good if it were to be acknowledged that more liberal feminists made a tough time even more stressful."
As an aside, Long is scornful of the term 'gender critical' arguing it's a "wishy washy terrible phrase that makes about as much sense as a Marxist calling themselves 'capitalism critical'."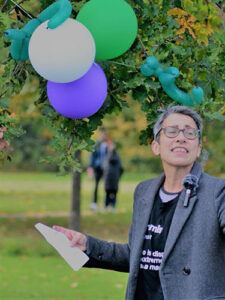 Julia Long (Photo by Tracey Glazebrook)
The anger from feminists was just the start.
"When the event came to the attention of trans activists in America it was as if the hounds of hell had been unleashed; it was vicious, and I was shocked."
The outrage spilled on to the pages of the Guardian. Transgender activist Roz Kaveney wrote accusing radical feminists organising the event as being like members of a cult. This was a forerunner of things to come.
In 2014 Long and fellow lesbian feminists took the decision to picket the Dyke March. They did so because a well-known trans activist, Sarah Brown, had been invited to give the keynote speech. Brown, who was a Liberal Democrat Councillor at the time, invited a detractor on social media to "suck" his "formaldehyde pickled balls".
Long recalls:
"It was pro-BDSM, pro-prostitution; there were just so many men dressed-up in frocks for the day out. It was surreal. It was exactly what Mary Daly prophesised. We turned up with placards, handed-out leaflets and had a bit of a sing about Sarah Brown's 'pickled balls' – immediately we became 'hate figures.'"
Long was part of a small band of lesbian feminists who wanted to explain the threat from transgenderism. When the Reclaim the Night feminist march rolled around the group were ready with leaflets that listed male offenders who identify as 'transwomen'. 
"All of the men listed were murders or rapists, some were child murderers. But when one of us handed out the leaflets there was an uproar; some tried to physically wrestle them from her hands. At the end there was a huge reaction against us – when we gathered in a full hall at the end the compere stood up on stage and denounced us. She said, 'Some of you might have seen these leaflets, these are nothing to do with us. Transwomen are welcome on this march, if you've been upset or offended talk to a steward.' The room erupted – there was a great big cheer in the room against us radical feminists. That was such an instructive moment."
"I remember shouting at the stage – I was absolutely incandescent about the way we'd been treated. How dare they claim to be a march against male violence and then respond with such hostility to what we were telling them about male violence!"
The first feminist conference to explore transgenderism itself as a form of male violence against women, 'Thinking Differently', was organised by Julia Long in 2016. It was a turning-point in feminist activism in the UK, drawing together women from the UK and US to talk about the harms of an ideology that was rapidly spreading.
Long has little patience with the tendency of some feminists to try and make hard truths more palatable by including men who identify as trans. She is also scornful of social media which she believes allows flawed narratives to circulate without challenge. Herself the victim of trashing she says:
"It's a numbers game – if someone wants to bad-mouth you or demonise you there's very little you can do about it."
Long is not afraid of direct action or confrontation. She has form for asking politicians difficult questions, most recently she caught Jess Phillips MP and asked her, "Do you think only women have a cervix?". Phillips responded by telling Long about her work reading out the names of murdered women each year in parliament, apparently unaware of Long's role as a researcher on the Femicide Census. But Long gives Phillips credit for at least "sticking around to talk."
Long also previously challenged Lisa Nandy MP on the policy of allowing men who identify as trans into women's prisons, and recently asked similar questions of Emily Thornberry MP and Dawn Butler MP. She explains, "It wasn't planned that they all happen to be women. I've challenged male politicians on plenty of occasions. We were standing around outside the hotel and challenged anyone we recognised."
She says, "As far as I'm concerned politicians are elected representatives and in a democracy members of the public absolutely have the right to ask questions – isn't that a key element of our democracy?"
"Jess Phillips sat on the committee that conducted the Transgender Equality Inquiry and was responsible along with her colleagues for pushing the recommendation on self-identification. I was only asking the same question that they had been asked by TV presenters and journalists – why wasn't that denounced as extremism?"
Whereas others might blanche, Long confesses to "enjoying revelatory moments where everything is thrown into sharp relief."
Recalling an incident where she was "carted off by seven police officers" from an event billed as "inclusive", Long says "I appreciate the clarity of a moment like that. I would rather go through that than to debate points internally with everyone using euphemistic language." Long explains that her everyday life is entirely woman-centred. She believes the new women's campaign groups that have been set-up miss a bigger point.
"Today feminist activism seems to be about groups territorially marking out campaigns. Maybe there's a place for that, but it frustrates me that so much time is spent trying to change men rather than working toward women's liberation."
"For example, everyone's against objectification. The sexualisation of young girls became a hot topic. But at same time I see very little rejection of make-up, dying hair and wearing high heels. If we don't stop objectifying ourselves how are we going to stop it happening to children?"
"If we look back to earlier times there was a dynamic and energetic rejection of women's oppression, whereas now the approach seems to be 'don't mention the war'- don't mention heterosexuality or critique choices."
To Long, one of the most powerful tools in the fight against patriarchy is laughter.
"I'm with Mary Daly on this. The release of energy from laugher is far more important than dreaming up a slogan that's going to catch the eye of a politician. I love laughing uproariously – when laughing we experience the potential of women's liberation. I really count myself fortunate I've enjoyed a good few of those moments and I hope to enjoy many more."
Top photo: Anne Ruzylo