Julie Bindel is an author, journalist, and campaigner who has spent more than four decades challenging male violence against women and girls. As co-founder of Justice for Women and a fierce opponent of the sex industry, she has devoted her life to feminist struggle. And now – with Feminism for Women: The Real Route to Liberation – Bindel shares her insights and experiences with a new generation of readers.
Though Bindel is full of the cold when we speak, she brightens the moment we start talking feminist politics. It's not the public kudos of writing a book that motivates Bindel, nor the opportunity to embed herself further into the feminist canon. Her feminism has never been focussed on the 'stars' of the movement. "I don't just want young feminists to look at Germaine Greer or Gloria Steinem and think 'that's feminism,'" she says. "They are – of course – part of the movement, but [young women] have to understand the women that fought for material changes. And they are grassroots activists; Black and working-class women who had the most to lose."
Her late friend Andrea Dworkin, another woman with little time for the glamorous side of feminism, continues to be a touchstone for Bindel's own politics. "When I asked why the ones that fight the hardest and the longest are almost inevitably those that have themselves suffered the worst type of male violence, Andrea Dworkin once said 'All women are on a leash, but those of us that are on a shorter leash fight the hardest to get rid of it.'"
How, then, do we throw off that leash of patriarchal control? There is no doubt in Bindel's mind: "We have to have solidarity between women. But it's been fractured. We've been told that we have nothing in common… either across generations or ethnicities, between poverty and wealth.
"I know that if you only focus on what we have in common, then there's a danger that only the most privileged of women will benefit from feminism. Not all women are the same. But if we don't look at what we have in common – which is male violence, the threat and reality – we will not know what to fight."
Not for the first time, Bindel grows frustrated with liberal sensibilities. "The problem with the identity politics of today is that it's all identity, but without the politics around it that we experienced in the women's movement of the '80s."
Bindel believes that, as feminists, we should all be considering the politics of desire – The Straights in particular. "Heterosexuality has just disappeared off the agenda; became the silent norm again. In the seventies and throughout much of the eighties, we talked about heterosexuality as a system. And it wasn't to say to heterosexual women, 'you're duped, you've got false consciousness.' It was to actually look at what heterosexuality meant.
"I see that very much as [the equivalent of] white people not learning that they're white; not having consciousness that we do exist in a framework where somebody else is being oppressed in relation to you."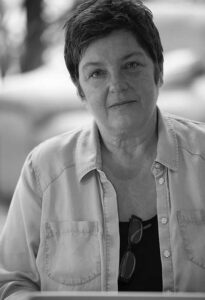 Author and campaigner Julie Bindel
Political lesbianism is often misunderstood, characterised as an attempt to force straight women into giving up men. But Bindel has no problem with heterosexuality – rather, the patriarchal system that frames it as inevitable.
"It's not that the women are doing anything wrong by being heterosexual," Bindel is quick to clarify. "Heterosexuality is imposed on women. And far fewer would choose it, if there was a choice. Plenty still would – and that's fine. But when we stopped being able to critique heterosexuality as a system then lesbianism also lost this philosophical thrust. It just became a lifestyle choice."
Though many saw the introduction of same-sex marriage as a welcome step, Bindel despairs at the depoliticisation of lesbian identity. "We're warriors," she reminds me. "Lesbians absolutely are sexual outlaws."
Yet lesbian feminists who oppose pornography and the prostitution of women are framed as 'sex-negative'; sometimes even subjected to more criticism than men who profit from the sex industry.
"I remember going to Essex University," Bindel recounts. "I went to debate Jerry Barnett on pornography. He's a porn producer, and he'd awarded prizes to two production companies. One that made a porn film parodying the attacks made by John Worboys, the Black Cab Rapist. And the second around African women coming from Congo, to London or Europe, and being desperate for help. So, they'd let any white man fuck them. It was in every way possible grotesque."
The disparity between how Bindel and Barnett were treated is revealing. "He wasn't heckled. He wasn't followed through the university campus being told he wasn't welcome; that he was a bigot. He was completely left alone. While I was shouted out as a whorephobic and transphobic by these bloody blue fringe students – who had never read a thing I'd written."
"They have made it very, very clear that they own all the LGBT space. [Women] can only be welcome in their space if we play the game. And lesbians have never, ever been good at capitulating."
Though accusations of 'whorephobia' have been levelled against her research of the sex industry, Julie is far more interested in criticising the behaviour of men buying sex than the women selling it. "In prostitution, women have the least choice and men have the most. So why would we then talk about her choices? We have to look at the person with the most power; look at the choices they are making."
Bindel is also keen to analyse the choices of men in the LGBT movement. "They have made it very, very clear that they own all the LGBT space. [Women] can only be welcome in their space if we play the game. And lesbians have never, ever been good at capitulating. That's why we split off from the gay liberation movement. That's why feminist women in the sixties split off from the left to form the women's liberation movement. That's why women today demand our own Lesbian Strength marches."
Given the extent of GBT misogyny, is that community viable for lesbians?
"No," says Bindel, without hesitation. "But I think the disco's great."
Feminism for Women: The Real Route to Liberation is out on 2nd September and available to pre-order on Amazon.
Claire Heuchan is an author, essayist, and Black radical feminist. She writes the award-winning blog, Sister Outrider.