Lesbians have always written outside of tradition. And collaboration has played a significant role in shaping experimental lesbian writing, from the incestuous lesbian couple published as Michael Field to the partnership between Gertrude Stein and Alice B. Toklas. One of Britain's most successful lesbian writing partnerships comes in the form of Jay Taverner, the persona of Jacky Bratton and Jane Traies – and author of four novels.
Bratton and Traies were a couple when they began writing together; professionals working busy jobs. "Writing," says Traies, "was a creative, intimate thing that we could do together. And it just grew from there."
The world of Brynsquilver was born of long car journeys. "There's only so many tracks you can listen to as you drive along the endless motorways or the endless country roads," Bratton reflects. "And we started telling each other stories. A lot of the composing process was verbal storytelling."
Those stories became Taverner's first novel, Rebellion. Writing and editing were both purely collaborative. "Neither of us wholly wrote any parts," Traies insists, "because one person writes something and the other person then edits it. And maybe that process goes on several times. Each sentence has probably been overwritten and rewritten by both of us. In that sense, none of it belongs to either of us."
That lack of preciousness about ownership clearly works, because the duo published two more novels in quick succession. But it is their shared sensibilities that enable Bratton and Traies to write in perfect harmony. "We've known each other since we were very young," says Traies. "And we had shared a great deal of our early experiences. So, a great deal of the furniture of our brain is the same. We share the same banks of knowledge; we've read the same books."
Bratton and Traies met as undergraduates. But a background in English literature did nothing to fuel their creativity. "Canonical texts completely froze us as writers ourselves," Jacky reflects, "because writers were T.S. Eliot, weren't they? The great white dead men."
Where university hindered, lesbian community helped. "We used to go to the York Lesbian Arts Festival, which lasted for about a decade," says Traies. "There we met lots of lesbian writers; people who have gone on to be really famous, like Val McDermid. And it was Val in particular that I remember. Her attitude is very much that of a craft person rather than, you know, the Great Inspired Artist."
Yet, for all the lesbian culture Bratton and Traies enjoyed, they still found lesbian representation lacking. "The only things we read were American pulp; that was the only lesbian fiction there was in that last part of the 20th century," says Traies. "And Rebellion we published in 1997 – which was even before Tipping the Velvet. So, there was nothing British that had people like us in it."
"There were problems about setting romantic ideas in people's heads," Bratton says of their first novel. "But, on the other hand, it was one of the functions of literature. And for lesbians, this had not been being fulfilled."
This discomfort with romance was what transformed the Brynsquilver books from a single novel into a series. "We'd written this very stylized romance story in Rebellion. [Hope and Bell] lived happily ever after," says Bratton. "And that is a real limitation of romance, isn't it? Because people don't just live happily ever after in the same exact spot as when they were twenty-two. So, we wondered: what happened to them later?"
On top of lesbian romance, found families are a recurring theme in the Brynsquilver books. "That's what we were fortunate enough to experience," says Traies, "and what we write into our books; the camaraderie of that other family.
"It was a very socially unacceptable thing to be any kind of homosexual, really. You lived a very hidden life. But oppressed minorities form very good communities. You learn to recognize each other; you learn to support each other. And you have you form a kind of compensatory family life, which protects you in a hostile world."
Each of the Brynsquilver books makes a similarly political statement. "We wanted to write lesbian experience back into history," says Bratton. "Not as some sort of tragedy, which everybody else's attempts to write about the lesbian experience had all been about. That's not what we want to read, so why should it be what we wrote?"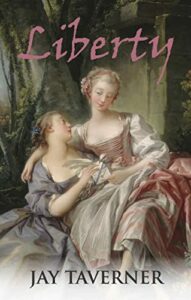 Positive lesbian stories earned the Brynsquilver books a loyal following. But, with the end of Bratton and Traies' relationship, Jay Taverner went into hibernation. The manuscript of Liberty was left half-finished for more than fifteen years.
Bratton kept the floppy disks on which their books were stored long after the technology became obsolete. "I found them in the loft, and I'd kept the story that we'd broken off when we parted," she says. "So I knew I was going to miss it. I think that there was a much larger missing going on, with the wreck that we had made out of our relationship."
Traies too missed the world of Brynsquilver. "I never thought that it would ever exist again. I thought it was gone. It was one of the things that went down with the wreck when we parted. We both went off in different directions with our own writing."
But the return of Jay Taverner was straightforward after their friendship rekindled. And during lockdown they finished Liberty. "It was like getting back on the bicycle," Traies says with a smile. "Which is a great surprise still!"
Liberty and the previous Brynsquilver novels are available now from Tollington Press
Claire Heuchan is an author, essayist, and Black radical feminist. She writes the award-winning blog, Sister Outrider.