Stonewall appears to think that discussing verifiable persecutions of homosexuals isn't going to get them enough clicks. To bolster their engagement statistics, they have seemingly decided to create their own "creepypasta"; stories that may or not be true, but which have the hallmarks of internet myth-making. Creepypasta (derived from "copypasta") is a form of internet folklore, the online equivalent of urban legends, which is spread by copy and pasting text around forums.
I was scrolling down my Facebook newsfeed and saw a sponsored post from Stonewall which gave me flashbacks to the early days of my internet exploring. I commented on the post with criticisms and was then immediately banned from interacting with it; luckily I took a screenshot. The post was encouraging people to "Sign up for your free 'We Are One, We Are Stonewall' badge" via a form on Facebook. To spur people to do so they had written, without attribution, a horrific story told by an anonymous woman.
In the anecdote, Stonewall quote a student describing escalating bullying in her university hall that culminated in being attacked in her dorm by a group of men. Her room was invaded and rape threats made on the command of a female homophobic ring-leader.
The quote from the girl is preceded by the caption: "TW: rape threats, assault, transphobia, homophobia, eating disorders."
The anecdote in full reads:
"When I was at university, I had to be in the girls' halls rather than the boys' halls, which I would have preferred. One of the girls in our dorm didn't like my masculine presentation, it initially started out as low grade bullying – things like leaving rotting food outside my door.
It escalated one evening when she invited a group of men into halls and encouraged them to target me. They started to break down my door and climb in through the window, shouting homophobic slurs and threatening to rape me to teach me how to be a girl – I was terrified. After they left I confronted her. She told me it was my own fault and dragged me outside the halls by my hair. She hit and kicked me, and tried to slam my head against a brick wall. My clothes were ripped and I was covered in bruises."
The post was rounded off by Stonewall's comment: "Hate crime towards LGBTQ+ people must end. Sign up for your free badge to show your support."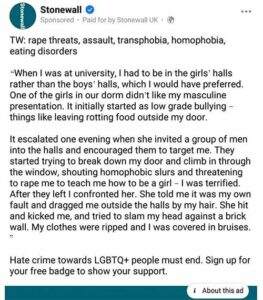 Stonewall's Sponsored Post on Bryndís's Facebook
I have no doubt that people are victims of extreme homophobic bullying and attacks. The story in isolation could be believed, it's not too outlandish. Like all successful creepypastas it sounds real enough to create a sense of fear about these evil forces, and it leaves you craving more information.
What happened next? Did she call the police, was there justice? Where did this happen? Was this in the USA or the UK?
The post is manipulative and I wasn't alone in doubting its truthfulness, many other commenters also queried the post.
Why don't Stonewall recommend calling the police? Why on earth would a digital or physical "badge" rectify this situation the girl is in? They give no advice to victims and no resources. They imply that online amorphous "support" will save this girl from her predicament.
Like a creepypasta chain email, there is the feeling that if you do not disseminate this story you will be cursed… or worse, you don't care about LGBT hate crimes and you aren't an "ally". It's the "legitimate" version of "One like = one prayer" viral posts that infected social media platforms.
Sign up now to stop Hate Crime! The post appears to be clickbait; achieving nothing other than making a Facebook page more profitable via engagement statistics. Another company using allusions of atrocities, presented with few facts, hijacking genuine public empathy to support questionable social media campaigns with shadowy motivations.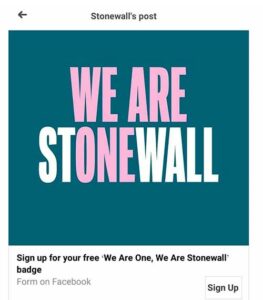 LGB people and feminists have been interrogating Stonewall's use of funds for many years now. Many millions are funnelled into the charity with no tangible benefit to homosexuals on the ground. If anything, Stonewall's influence has increased anti-gay antagonism, particularly against lesbians, especially the women who reject male partners and have the audacity to say so.
Stonewall continues to use LGB's plights as titillating anonymous stories with no evidence as a way to get people to subscribe to their digital brand. I am worried that this disingenuous presentation sows understandable doubt about the truth of claims of homophobic attacks.
The caption primes the viewer for traumatising reading; it warns of discussion of eating disorders even though the anecdote doesn't even mention them. It reads like a Tumblr post designed to make teenagers scared of the "evil cis"- the boogiemen in the minds of "queer youth"- and to fear the wicked heterosexual women who can control, and therefore be blamed, for the violence of men.
Stonewall dismisses the stories from gender non-conforming women who live out and proud as bisexuals and lesbians. Instead, they write apparent fictions; portraying gay girls as anonymous victims who must become 'boys', to avoid becoming tragic lead characters in shocking internet parables.
It promulgates the dangerous idea that gender non-conforming women are in fact "men" and should be housed with boys instead of their female peers. It tells the reader that a gender non-conforming woman will never be accepted in accommodation with other girls whilst selling the mendacious idea that women will be safe from male violence if they sleep amongst men – because the threat lies with the female ringleaders – not with males.
Encouraging words will not prevent gay-bashing or bullying but LGBT organisations are instilling fear and terror in young people before they even step out into the world.
They set JK Rowling as Voldemort, the "queerphobic" heterosexuals as Death Eaters, and construct the threat of suicide as if Dementors stalk and glide above waiting to suck the life out of the "trans person" who is not affirmed.
We are a strong bunch, us lesbian, gay and bisexuals. Stop selling our plight as clickbait engagement. Show the strong women who lived and thrived in non-conformity or who called the authorities and fought for justice. Stonewall dismisses the stories from gender non-conforming women who live out and proud as bisexuals and lesbians. Instead, they write apparent fictions; portraying gay girls as anonymous victims who must become 'boys', to avoid becoming tragic lead characters in shocking internet parables.
Bryndís Blackadder is a human rights activist, multimedia artist and film-maker.