Marion Millar arrived at Glasgow Sheriff Court this morning to a crowd of around 200 supporters – women and men of all ages. Some women were dressed as suffragettes. Our writer MrMenno recorded the moment on video when Marion arrived.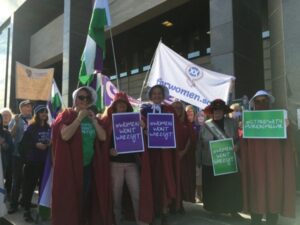 Marion, who is being represented by the SNP MP Joanna Cherry QC, has her initial bail hearing today.
Marion, a mother of autistic twin boys, has been accused of posting allegedly homophobic and transphobic material on social media in 2019 and 2020, including a tweet showing a ribbon on the purple, white and green of the suffragette movement.
She has been charged on 3 June under Section 127 of the 2003 Communications Act, which criminalises "grossly offensive" messages, with a "hate crime aggravator".
The appearance was initially set for 20 July, then delayed by prosecutors to 17 August, before being delayed by the Crown Office again to today.
The 50-year-old accountant from Airdrie faces two years in jail if convicted.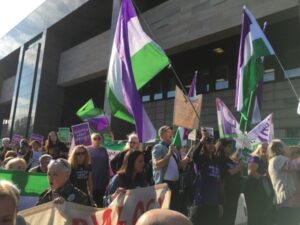 Ms Cherry will lead Marion's defence with advocate Paul Harvey as her junior counsel. It is understood the defence will involve human rights issues.
The Herald newspaper in Scotland reported that Marion Millar has received support from around the world ahead of her first court appearance.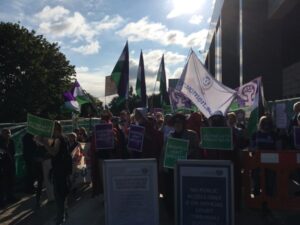 She has been sent messages from Canada, Spain, Italy, France, Finland and Japan, as well from all parts of the UK. A women-only group in America's Washington state sent a video message of themselves chanting Marion Millar's online rallying cry "Women Won't Wheesht".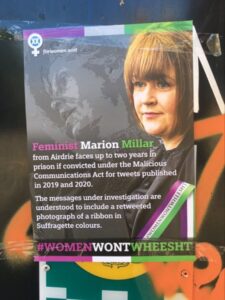 Video and photos by MrMenno