Today it was revealed that the Arts Council and Cambridge City Council have given funding to a drag performer whose social media feed is peppered with pornographic content. Disturbingly, the artist will be overseeing the running of a children's festival and "Kids Party", reports Jo Bartosch.
Adam Carver, a "Midlands based creative producer, performance-maker and cultural activist" has been paid to arrange entertainment for children at an event called PALAVER. Carver performs as a drag queen using the name 'Fatt Butcher' and his company, Fatt Projects Ltd, is running a children's festival based in partnership with Cambridge Junction. PALAVER, promoted as a "Kids Party", is aimed at children between the ages of 3-8 and is described by Carver as "supporting artists and organisations to make and programme queer positive performance for children and young audiences."
Carver is clearly a talented costume designer; from 2016-2020 he was the producer and programmer for SHOUT Festival of Queer Arts and Culture. Last year he oversaw Fantabulosa, described as "interactive public space drag show for kids, bringing to life queer positive children's stories through lip-sync, song, games, dance, drag performance." These projects were also supported by public funds through Arts Council England.
But evidence strewn throughout his open social media feeds reveal many of his performances to adults are pornographic, featuring bondage gear, sex toys and sadomasochistic scenes. Carver's personal website carries a sexually graphic video of the "12 Days of Christmas" song which includes "9 Gaping Arseholes" with 9 photos of the Prime Minister Boris Johnson.
In one image from his Instagram Carver is pictured with his mouth open, holding a huge butt-plug and wearing a harness under an open red dressing gown. The caption reads: "I saw Daddy kissing Santa Claus and I was into it." In another, Carver wears a stylised pig costume and is sniffing an open bottle of amyl nitrite.
Referring to the hit musical Everyone's Talking About Jamie, Carver explained on Twitter he "bloody loved it" because it's "the story of a little twink who befriends an old queen and lives out all his teenage faggot dreams".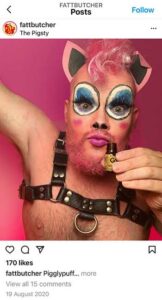 It was the Safe Schools Alliance (SSA) who first drew attention to Carver's social media activity. SSA spokesperson Tayna Carter said:
"We continue to be appalled by the inability of those charged with safeguarding the nation's children to apply due diligence to what they are promoting and to identify red flags. That public money is once again being used to promote highly unsuitable individuals to children is a national scandal worthy of a public inquiry."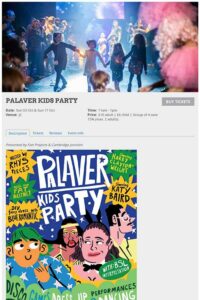 As with the unforgettable 'Rainbow Dildo Butt Monkey' episode, it seems children's best interests have been disregarded by funding bodies keen to champion a questionable vision of inclusion. And after decades of fighting to reassure the heterosexual mainstream that gay men are no threat to children, some seem set on undermining these fragile gains.
Aside from showing a chilling distain for the rights and safety of children, there is a further danger to the arts. Cambridge as a city was awarded £1.5million from the government's Culture Recovery Fund (CRF), of which Cambridge Junction received £248,083, and it seems likely that the money paid to Carver's company was from this funding stream.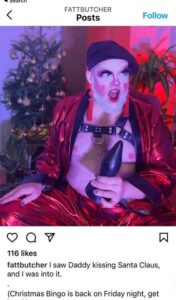 With the arts and theatre in a precarious position following lockdown, taxpayers may find themselves increasingly reluctant to support a sector hellbent on pushing a belief system which is antagonistic towards both sex-based rights and child protection.
In a post from his website entitled "Artists; if you want to get paid for having an expensive wank get an Only Fans" Carver muses:
"We have entered into a period where our work will likely be harder to fund and harder to sustain, where the arts will be reconsidered and our value as a public service judged against other public services."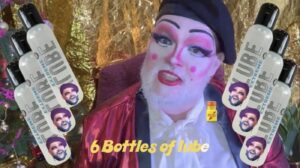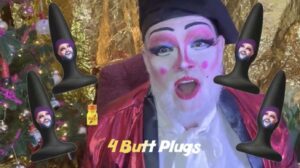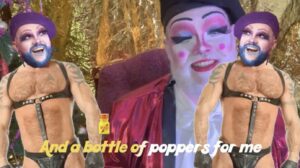 Arts Council England are in danger of squandering the outpouring of public support following the pandemic. Why should taxpayers stay silent when those charged with enriching British culture and promoting creativity, instead seem committed on pushing a dangerous and obnoxious ideology?
In a statement to Lesbian and Gay News Adam Carver said:
"Artists create work for a range of audiences, not everything they make will be suitable for all audiences. We see this happen regularly in other forms of media for example an actor may perform in a film or play rated 18 where there is sexual or violent content and later perform in a family film rated U/All Ages without conflation or concern. All PALAVER performances and events have been carefully crafted to ensure all the content is suitable for ages 3-8. 
All of our lives include activity that would be unsuitable to present or discuss with under 18s, this is an understood part of life. However this understanding is one which is not afforded to LGBTQ+ people who are often only presented through the lens of sexuality rather than living full and multifaceted lives, despite sometimes also being parents themselves."
A spokesperson for the Arts Council said: "We have been made aware of concerns highlighted on social media about the Palaver Family Festival. We take issues of safeguarding very seriously and are now in contact with Cambridge Junction to make sure that the appropriate safeguarding measures are in place for this event."
Cambridge Junction have been contacted for comment.
(Photos: Twitter/Instagram/"12 Days of Clonezone")