"Who took the first brick out of Stonewall?" may well be the question asked in years to come if the beleaguered 'alphabet soup' lobby group ends up toppling over. Some may point at investigative journalists, some at senior cabinet ministers, and some at Allison Bailey for suing them over allegedly colluding to have her sacked for helping launch LGB Alliance. Others might say: "Actually, it was DJ Lippy – and there were dinosaurs."
DJ Lippy is the mastermind behind the already iconic Terfasauras that brightened up the recent "Hear Me Roar!" protest outside the offices of The Lancet and the Labour Party. Fresh from deploying them onto the dance floor at the LGB Alliance conference, the next day she took them on a whistle-stop tour through central London to urge public bodies and private companies to pull out of Stonewall's Diversity Champions scheme (simultaneous protests were held in Belfast and Edinburgh).
"Stonewall no longer speaks for us, or represents the interests of lesbians, gays and bisexuals – it hasn't done so for years!" she said through her megaphone as she led a group of 60 protestors from Parliament Square to Portcullis House. Among the group were philosopher and author Heather Brunskell-Evans whose sign read: "Get Stonewall out of NHS."
It was the first LGB-led protest against an organisation increasingly seen as having betrayed the gays. The Judas kiss came in 2015 when it started advocating on the basis of 'gender identity' under the guidance of Ruth Hunt. "I think we always knew… that people would lose by that," she would comment later. "That was a price worth paying."
Who was meant to be paying that price? The many placards gave the answers: "Stonewall erases lesbians" / "Transing lesbian girls is gay conversion therapy" / "Complicit in the sterilisation of children who play with the 'wrong' toys?". The angry chants also focused on medicalisation: "Stop transing children, kids cannot consent" / "Hey Stonewall, leave the gays alone."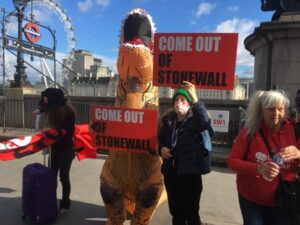 The lucrative field of 'gender identity medicine' is where the conflict of interests between LGB and the T is the starkest – and most sinister. A number of whistleblowers at the Tavistock have rung the alarm over how sending youth down a medical path may be used to 'trans the gay away', including its safeguarding lead Sonia Appleby who recently won her tribunal against the NHS gender clinic for obstructing her in doing her job. If she wasn't doing the safeguarding, who was?
Earlier this month new research by Lisa Littman showed that homophobia or having difficulty accepting being same-sex attracted was expressed by 23% of detranstioners as a reason to transition. This is gay conversion in the most literal sense – inflicted by surgeons' knives and regimens of powerful drugs. Stonewall have never addressed this or accepted invitations to talk about it, instead bankrolling and pushing its "No debate" gender agenda in hundreds of organisations throughout the country with its Diversity Champions scheme.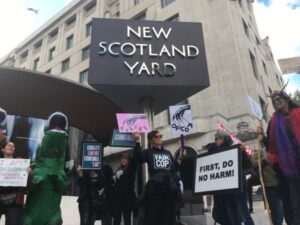 The next stop was Scotland Yard where DJ Lippy called for Stonewall to "Stop policing our police" and the protestors chanted: "Police out of Stonewall" and "Transing children is a crime." After a quick stop back outside the Houses of Parliament the group protested at the Home Office before jumping on a bus. The driver would have had interesting stories to tell at the end of his shift: "I had a bus full of dinosaurs and people singing "The TERFs on the bus say Stonewall out, Stonewall out, Stonewall out!"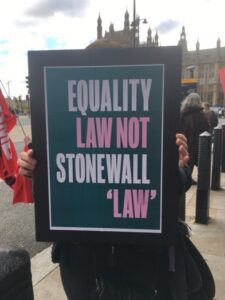 The final destination was the BBC's Broadcasting House. DJ Lippy spoke about Stonewall misleading organisations about the Equality Act 2010 and "Pushing policies which discriminate against women and harm lesbians, gays, bisexuals and autistic children." Terry from Thoughtful Therapists spoke about how within psychology 'dissenters' from the affirmation-only model are being silenced or sidelined, and how the Memorandum of Understanding had created an environment in which therapists feel they can no longer do their jobs. "This is not why I became a therapist," she told me later in the pub. The level of detail she gave was chilling; nothing about the situation we find ourselves in has been accidental or a 'perfect storm' of circumstances – it has been orchestrated. It echoed the findings of the recent 10-part Nolan Investigates BBC podcast series into Stonewall's widespread influence (one protester carried a sign to thank the journalist).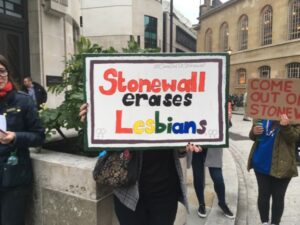 At the BBC's HQ, the group made its way to a side entrance to take pictures at the George Orwell statue. Next to the statute, text inscribed on the wall reads: "If liberty means anything at all it means the right to tell people what they do not want to hear." It was a fitting place to pose with all the placards.
As with other protests I have reported on, the anger and disappointment was palpable. It's an outrage that an organisation founded to advocate on the basis of homosexuality has become a stalwart of 'Homophobia 2.0'. Members of the public share this anger, too: as the protest wrapped up, Helen Steel handed a leaflet to a passer-by who initially mistook it for a Stonewall leaflet. "I want nothing to do with you!" she said. When Helen explained it was a protest against Stonewall the woman told her about a 60-year-old gay friend and how betrayed he feels. "It broke his heart," she said. "It's disgusting. This is not what they fought for back in the 80s."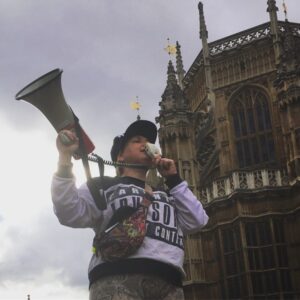 Stonewall's "No Debate" stance may well become its undoing: when people feel they keep coming up against a brick wall, they'll start taking it down – brick by brick if they must. It'll be a collective effort with politicians, investigative journalists, brave women like Allison Bailey and grassroots activists like DJ Lippy all playing their part. By the looks of it she will leave no stone unturned: "I peaked the taxi driver on the way home!" she messaged me later that evening. And that's why she may well become the stuff of legends.
You can visit MrMenno's YouTube channel at https://www.youtube.com/channel/UCV3876CGo9uVUvoZuUZsMgg