Fascists can be easily spotted; they tend to have an unhealthy obsession with flags and a penchant for colonising terrain to which they have no claim. This is perfectly illustrated by this year's 'progress pride' flag, to which has been added a purple circle on a yellow background apparently to signal intersex inclusion. Underlying the redesigned flag is the assumption that being intersex is analogous with sexual orientation or feelings of gender identity.
To be intersex is to have a disorder (or 'difference') of sexual development (DSD), a group of rare conditions involving genes, hormones and reproductive organs, including genitals. It is estimated that between 125 and 150 children are born with a DSD every year in England; a vanishingly small number. 
The encroachment of intersex people's experience by trans ideologues extends to language and it starts in the maternity ward. The term 'assigned at birth' is now widely used to accommodate a narrative about feelings of 'gender identity' potentially not aligning with sexed genitals. But for the overwhelming majority of people, even those with DSDs, sex is observed; only 0.001% of babies are born with ambiguous genitalia which needs to be assigned.
Many intersex people are fed-up with having the conditions they live with repurposed for ideological ends. Others are also angered by the conflation of transgender identities with DSDs.
Leading gender identity specialist, psychologist Dr Kenneth J Zucker, has posited that the growth of the online world has exacerbated the phenomenon of 'intersex posers'. He reports that for some of his transgender identifying patients a belief in 'the presence of a physical intersex condition' provides a 'more solid foundation for their gender dysphoric feelings.' Support groups for those with intersex conditions have naturally attracted those who believe, or purport to believe, their trans identities are informed by a fictitious DSD. The inclusion of 'intersex posers' has further marginalised people with DSDs and infected public understanding and discourse.
'The trans movement's continuous appropriation of people with intersex conditions, using our bodies to defend their ideology, is the most insulting thing of it all.'
Nick Webster is an intersex campaigner who spent two years struggling to obtain a diagnosis of Klinefelter Syndrome (KS). He explains that his condition only affects males; it is the result of having XXY chromosomes.
'The trans movement's continuous appropriation of people with intersex conditions, using our bodies to defend their ideology, is the most insulting thing of it all' he says.
Prejudice against people with intersex conditions is common, and Webster is angered that people like him are still 'called outdated slurs like hermaphrodite'. The fallacious but trendy falsehood favoured by queer theorists, that sex is a spectrum, has done little to redress this harmful misconception.
'People are born with DSDs (Disorders of Sex Development), and we face daily challenges including pain, mental health issues and body dysmorphia' Webster says.
'This leads me on to question why trans organisations have included intersex into the sexual orientation/gender identity acronym, because intersex conditions are not an identity, but a biological reality that myself and many others deal with on a daily basis – after all the acronym community wouldn't hijack other medical conditions like deafness, blindness or mobility disabilities – why are they hijacking people with intersex medical conditions?'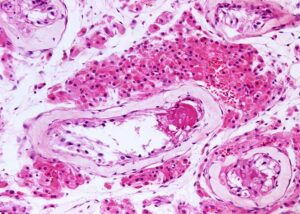 Large cluster of Leydig cells in a case of Klinefelter syndrome
KS has made Webster infertile and left him with various medical needs. The organisation he might rely on for support, the Klinefelter Syndrome Association, has signed-up to the notion that gender identity is 'fluid.' On their website they claim 'gender identity isn't two fixed points but instead is a spectrum – some males are more 'male' than others and some females are more 'male' than others…. This applies to XXY people too. Some are male, a few are female and others are neither – or both.'
But this assertion by the Klinefelter Syndrome Association is quite simply wrong. Sex is not a spectrum; there is no middle point between egg and sperm.
Polydactyly is the term for those who are born with additional digits, an abnormality that occurs once in every 1,000 births. The existence of some people with additional fingers does not mean that humans as a rule do not have four fingers and a thumb. Similarly, the existence of people with DSD does not disprove the fact that humans are sexually dimorphic.
The available data support the conclusion that human sexes are a dichotomous and not on a continuum. More than 99.98% of humans are either male or female. As Dr. Leonard Sax MD PhD notes:
'If the term intersex is to retain any clinical meaning, the use of this term should be restricted to those conditions in which chromosomal sex is inconsistent with phenotypic sex, or in which the phenotype is not classifiable as either male or female.'
Today, the voices of those with DSDs are getting louder, and it is clear that their needs are quite distinct from those lumped together under the rainbow flag. As with all who dare to stand their ground against the gender ideologues, intersex people who present a challenge to the dominant narrative on social media are monstered and frequently censored.  
This happened to a woman with XX/XY Mosaicism (a rare chromosomal disorder) who wants to be known as Alex. Alex was permanently banned from Twitter after she tweeted in response to a transactivist that her XX/XY Mosaicism ought not to be used to support the argument that 'transwomen are women.'
She tells me she feels intersex people are 'always treated as a milestone, or a tool for gender identity'.
Alex adds:
'I'm at my wit's end over this and feel like intersex people are in danger and that neutrality may no longer be an option. Intersex conditions have been getting absorbed into the transgender narrative, starting with but not limited to 'sex is a spectrum' 'sex is based on your sexual characteristics so a trans man/trans woman can change their sex' 'intersex is a third/fourth/fifth sex' 'intersex is not a medical condition' and 'intersex people are more dysphoric then the cis population and more likely to be trans' – All of which, are false and harmful to us.'
The task faced by intersex advocates is tough; both educating the public about their conditions whilst countering the notion that having a DSD is the same as identifying as trans.
Some intersex people have expressed concern that the medications needed to treat the symptoms of their conditions are now in short supply. There are reports from campaigners that this is because hormone replacement therapies are being prescribed to those who identify as trans rather than those who have a need because of either menopause or DSDs.
The existence and experiences of women like Alex and men like Nick are inconvenient for those seeking to justify spurious claims about trans identities. Intersex people deserve more than to be used for political point-scoring by transgender activists and organisations keen to tap into new revenue streams.
The task faced by intersex advocates is tough; both educating the public about their conditions whilst countering the notion that having a DSD is the same as identifying as trans. Having a DSD is irrelevant to one's sexual orientation, and intersex people should be entitled to space outside of the crushing weight of the rainbow flag.
Please note, the term 'intersex' has been used throughout this piece. Following contact from campaigners with variations & disorders of sexual development (VSDs & DSDs) Lesbian and Gay News recognise there is a now a political move away from the term 'intersex', as some consider it misleading.