Sunday 14th March is Mother's Day; a day in which we celebrate the unique contribution of mothers the world over. A contribution which only women can make.
My mother lived in France and the last time I visited her was for Mother's Day in 2012. She was living with cancer. We sat on the veranda with the river below and the mountains of the Cévennes in the distance. Later, we took carrots to feed some donkeys in a field at the far end of the village. These and the conversations which accompanied them are treasured memories because my mother died a few days later. After she died, I vowed that the best way to honour her memory was to live up to her fine example, difficult though that would be.
Mum did not describe herself as a feminist, but she knew what sexism was and how it demeaned women. I remember the sadness I felt when she once returned home from work having been molested by a man on the tube – she tried to protect me from her distress, but I overheard the conversation.
My mother was passionately concerned about domestic violence and at one stage she volunteered at a women's refuge.
My mother was passionately concerned about domestic violence and at one stage she volunteered at a women's refuge. I know that if she were alive today, she would be appalled by local councils like Brighton & Hove and North Lanarkshire removing funding from women's refuges on the grounds that they do not admit men. She was a lifelong Labour supporter and I suspect she would be angry at the party's failure to support Rosie Duffield.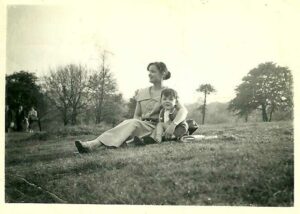 Richard and his Mum photographed in the 1950s
Mum was an early supporter of lesbian and gay rights, which made it easier for me to come out when the time was right. She was also sympathetic to people who underwent surgery to enable them to live their lives as members of the opposite sex like the late Jan Morris. She was less keen on men who mocked women like the right-wing comedian Bernard Manning who claimed to be a lesbian and I suspect she would have been equally unamused by more recent examples. I am certain she would have opposed the idea of men self-identifying into women's safe spaces without any medical diagnosis or legal process.
I think about my mother every day and the pain of loss eases over time but never fully goes away. Mother's Day always triggers happy memories. This year Mother's Day comes at a time when women's sex-based rights are under attack and the very word 'mother' has been replaced by 'birthing parent', 'chest feeder' or 'guardian'. So, let's hear it for mothers everywhere – Happy Mother's Day.
Richard Cotton is a Camden Councillor.