Keira Bell has called for more mental health care for young people with gender dysphoria. Appearing on Steph's Packed Lunch on Channel 4 on 4th January, Bell, who won a High Court case to stop puberty blocking drugs being given to under 16-year-olds without the approval of a court, called for "intensive mental health care" for people seeking gender dysphoria treatment.
Highlighting the large increase in girls being referred to gender identity clinics, Bell told the TV show: "The fundamental issue here is we're not receiving proper mental health support and this is disproportionately affecting girls at the moment.
"There's been a 4000% increase of young girls being referred to the gender identity clinics and so this is a societal issue, something else is going on and the clinics don't know… so yes, mental health help is the key."
Bell told presenter Steph McGovern that during her teens she was really struggling with mental health issues: "I was struggling with my sexuality and just struggling generally with not fitting in to the stereotype that girls are supposed to fit in, society says, and so all of this just manifested into gender dysphoria."
The 23-year-old described being seen at the Tavistock NHS Centre from the age of 16. Asked by the Channel 4 presenter: "Were you getting any kind of counselling or anything as well?" Keira answered with a simple "No". Asked by McGovern about the clinic's five hour-long counselling sessions with her before receiving puberty blockers, Bell said: "They were very brief appointments, just kind of what was my friendship group as I was growing up, did I prefer to hang out with boys or girls and what did I like to wear, my hobbies, that sort of thing, so it was very much based on stereotypes and yeah, no psychiatric assessment or anything like that."
Bell said this, "sometimes involved speaking with my parents as well, well one of my parents, and again it wasn't in depth, it was just very brief, on the surface discussion."
McGovern then asked Bell: "There will be some adults who've transitioned as an adult who wish that they could have transitioned as a child… what would you say to those people though?"
"I mean everyone wants what they don't have," Bell explained. "These older adults I'm sure they would feel that way, but as the High Court showed, they ruled that children can't consent to the treatment because of the nature of the treatment and how life-long it is and how negatively it affects our health, and a lot of the effects are also unknown. And so it's easy for people who haven't gone through it to say 'Oh I wish I had that' but you know, I've been through it and it's not, it wasn't beneficial in any sense.
"I've stopped the hormones and all of that, so I'm better in that sense, but I have no idea on how things are gonna progress from here. We're all guinea pigs in this, no-one knows, there's no studies or evidence. So I'm kind of free falling at the moment but I'm in a much better position because I'm out of it and I'm not confined within gender anymore."
The Tavistock and Portman NHS Foundation Trust told Steph's Packed Lunch: "Our Gender Identity Development Service offers a safe specialist environment for children and young people to explore issues pertaining to their gender identity development." They claimed only a minority of those referred to the service progress on to a physical intervention pathway. "These decisions are highly individual and made with young people with the support of their families. We are sorry to hear that Keira feels she was not well supported by us and later by adult services. Our door is always open to her and others who may be reconsidering their journeys."
BEHIND THE STORY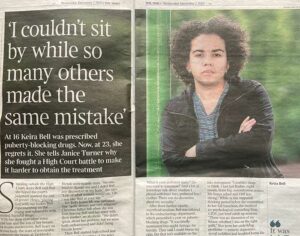 Keira's interview with Janice Turner from The Times
Twelve months after receiving puberty blockers, Bell was prescribed testosterone. Her voice deepened and she grew facial hair. At 20 she underwent a double masectomy.
In an interview with The Times' Janice Turner in December, Bell described how she was "sick of being a medical experiment" and she stopped taking testosterone. Bell's periods returned and she found herself able to cry again, but her deep voice and facial hair are irreversible.
Turner reported that Bell is "now happily living with a female partner, she is coming to terms with her double mastectomy and 'trying to accept my body for what it is'. However, she grew increasingly angry and troubled that online blogs spoke of transition only in glowing terms, promoting it to children based, she says, 'on lies and sex stereotypes'.
"In particular, she felt that "butch" young lesbians like her were under intense online pressure to become trans men. 'Gender is polarised: you have to look a certain way. You feel you have to fit in with expectations, even if that means using experimental drugs and surgery'."
Photo: Bethany Clarke for The Times
Read the full interview with Keira Bell by Janice Turner here: https://www.thetimes.co.uk/article/keira-bell-i-couldnt-sit-by-while-so-many-others-made-the-same-mistake-gb03n3mlr
Watch Keira Bell's interview on Steph's Packed Lunch here: https://www.channel4.com/programmes/stephs-packed-lunch/on-demand/71179-071?