It started with my old mate Stuart (who famously once egged Nick Clegg). He was a pretty boy when I met him at Uni and his new profile pic on Twitter showed he's blossomed into a very handsome man – who's very clear about his support for women and trans people:
The problem is the total erasure of sex as a concept, which is not progressive, because it's too fundamental an aspect of life experience. We can respect a trans person's acquired gender – and have protocols of inclusion – without erasing sex entirely. (@Stuart_A_R)
I'll get back to inclusion.
Then I noticed a couple of other hot gender-critical men, like the lovely Colin Wright (bio: "Evolutionary biologist. Managing Editor @Quillette. Lover of whisk(e)y, fitness, cats and ideas.") who posted this thread:
Sex spectrum pseudoscience is being presented as fact by a Texas Democrat in a hearing on trans athletes. He makes the absurd claim that there are 6 (!) biological sexes. These ideas were embarrassing when they were relegated to Tumblr. Now they're in government proceedings.
The claim that there are 6 sexes is based on the flawed notion that people with variations of sex chromosomes beyond XX & XY are their own unique additional sexes. This demonstrates a very poor understanding of biology. I wrote an article about it.
I also wrote an article explaining why, in great detail, biological sex is not a spectrum. These articles don't present a fringe opinion in biology. These are mainstream facts that are being twisted and suppressed for political reasons. (@SwipeWright)
I included a couple of others and posted this cheeky tweet:
Is it just me, or do men who bravely stand up for women and children tend to be more attractive? (Than certain wee journo kidults and big tattie heids having online tantrums lately.) (@Gumptionology)
My following tends to fluctuate as folk love some of my opinions and hate others which seem incompatible, but the common link is an opposition to Big Pharma targeting and manipulating women, gay men and people of colour – and expanding lucrative markets for toxic drugs in developing countries.
As well as wild enthusiasm (and a massive increase in followers) I've had a bit of rad fem critique of #HotGCMen about my criteria of inclusion, which is understandable and shows that there is a debate.
I also received relentless and vile abuse from TRAs, including attempts to contact my employer to get me sacked. The abusive accusations were typical.
First, they said we were all rightwing. A gay male friend recently did a straw poll with this tweet:
I'm tired of being told that GC folk are all right wing Conservatives, so let's settle this: Please vote your political leanings and retweet… GC folk only please. (@IconoclasticUK)
With 2,485 votes the final result was: Left wing 62%, right wing 7%, centrist 31% – and he's a Tory, so you'd expect his followers to be.
Second, they accused us of being White supremacists. This apparently included the featured light-skinned men of colour. In response, I posted this:
#HotGCMen is a cheeky compilation celebrating "handsome is as handsome does"; its reception varies from wild enthusiasm to vile abuse (from cartoon characters with sci-fi names). GC men of colour & women risk more abuse than White men when revealing their true names & photos.
…There is some stroppy feminist critique (fair enough) but the abuse has come from TRAs unable to tell a Leftwing rad fem (opposing gender stereotypes) from a Bible Belt Republican (often not) and who ignore the power differential between men & transmen and women & transwomen. (@Gumptionology)
Third (hilariously) despite being mostly gay, we were apparently all homophobic, and despite many of us older guys having campaigned for trans inclusion in LGB student and community groups, we were also simultaneously transphobic. Many of the complaining TRAs totally missed the two transsexual people I'd included – and those that noticed them found that further proof of our transphobia! You just can't win!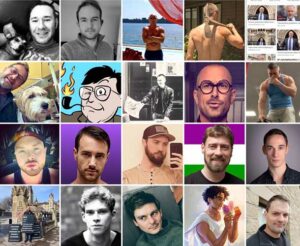 Back to inclusion. Personally, I wouldn't feel invaded by Buck Angel walking into the gents toilet or leisure centre changing room. I would, if I'm honest, feel very uncomfortable with someone more obviously female in such a male space. I can understand that my personal feelings (and those of other men) on this issue do not translate into women's situations. Similarly, although I resist pronouns-on-demand from pastel shade-haired Millennials who change 'gender' every time it rains in Scotland (frequently) it doesn't bother me to call Buck 'he' and Debbie Hayton 'she'. I included them both, as gender-critical people with varied experiences and expressions of masculinity, and I apologised to both for the abuse they got. Buck gave as good as he got, and Debbie (as always) was lovely about it. I define them as GC because they are honest about their biological sex. Older transsexuals often say (I'm paraphrasing here) that their problem isn't with their 'gender' but their sex and it's the latter that they wanted to change – insofar as it is possible.
I take the feminist critique seriously. I'm White, male, middle-aged, tertiary educated and bisexual. I'm not feminist because I'm not female and therefore (like all men) I lack any of the qualifications to conduct a critique from that perspective. What I can do is try to be honest about my power and how I can use it to dismantle the patriarchy which is the root cause of homophobia and gender dysphoria. So I need to be clear about the power differential between men including f-m transsexuals (or male-identified female transvestites) in male safe space and women including m-f transsexuals (or female-identified male transvestites) in female safe space.
What's my solution? It's such a complicated issue that I wrote an in-depth philosophical analysis of the nature of transgender reality claims but here's the skinny:
Identity can't just be individually asserted or performed without the possibility of it being rejected or failing to convince.
Ignoring biological facts is unscientific.
Despite policy creep, single sex safe space is still provided for in law.
There is a debate about the best way to include trans people and it's a debate worth having.
The 'trans umbrella' is unhelpful as it confuses transsexual people with transvestites, occasional cross-dressers, those who identify with the opposite sex with no change of physiognomy or attire, and those who deny the reality of the sexes altogether.
Intersex experience should not be appropriated by transactivists (or anyone else).
Women are in a totally different political space from men. That power differential is fundamental and must be the basis of change. "To me, the first commandment of real feminism is: when in doubt, listen to women." (Naomi Wolf, Our Bodies, Our Souls)
A charity calendar of Hot Gender Critical Men is in preparation.
Dr Alan McManus is the author of Trans/Substantiation: The Metaphysics of Transgender, various books on ethical controversies as well as the Bruno Benedetti Mysteries and several plays. He blogs on WordPress and posts as @Gumptionology on Twitter.