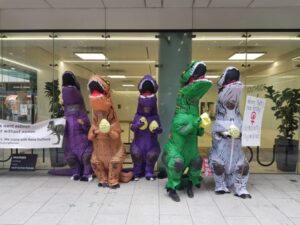 This Friday lesbians, gays, bisexuals and women will take to the streets of London, Belfast and Edinburgh to demand that organisations leave the Stonewall Diversity scheme, writes D.J. Lippy.
We believe Stonewall UK has become anti-gay and anti-woman.
Over 500 public and private bodies are members of their scheme and have implemented policies and procedures which reflect the law as Stonewall would like it to be, rather than as it is written.
I am one of the organisers, and the woman behind the inflatable dinosaur #HearMeRoar protest held in London on 8th October.
I will stand with my LGB siblings and with women to say "Stonewall does not speak for me or represent my needs."
Enough is enough. We are leaving Stonewall and you should do the same.
We encourage people to make their own placards or prepare a speech, poem or song.
Allies also welcome to attend.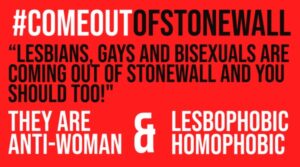 London
Meet up: 12pm at the Millicent Fawcett statue in Parliament Square.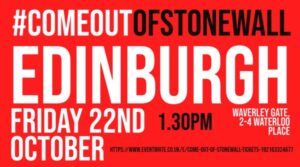 Edinburgh
Meet up: 1.30pm at Waverley Gate, 2-4 Waterloo Place.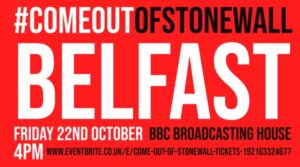 Belfast
Meet up: 4pm at BBC Broadcasting House.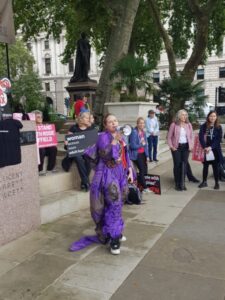 Five Actions for Armchair Activists!
You can still be part of the action if stomping around with banners and inflatable dinosaurs isn't your thing.
Here's five things you can do to encourage organisations to #ComeOutOfStonewall:
Write to Stonewall Diversity Champions
Write a letter to an organisation that is a member of the Stonewall Diversity scheme and explain your concerns with the charity. You can use a template from Sex Matters. They suggest you choose five companies, preferably those you have a personal link with. Add a personal touch and explain how Stonewall's lobbying has affected you, and the impact that their proposed legal changes would have on you: https://www.equalityhumanrights.com/en/advice-and-guidance/your-rights-under-equality-act-2010. You can find a list of the Stonewall Diversity Champions here: https://sex-matters.org/stonewall-champions-list/ 
#CanThePlan
Stonewall Cymru have been hired by the Welsh government to both commission and implement the LGBTQ+ Action plan in Wales, bringing in self-ID by the backdoor, and writing and marking their own homework. 
The LBGTQ+ Action plan abolishes sex in law which is bad news for women, lesbians, gays and bisexuals.
Merched Cymru and LGB Alliance Cymru want to #CanThePlan and have released guidance and resources for responding to the consultation.
It takes five minutes to complete using this resource, and you do not need to be in Wales, or the UK to fill it out: https://merchedcymru.wales/can-the-action-plan/ Add a personal note about why you oppose the abolition of sex in law.
The consultation closes on Friday 22 October the same day as the protest, so please fill it in and share on your networks before this date. Retweeting the information under the #CanThePlan also helps these groups share their message.
Take to Twitter, and beyond!
To get the action trending on Twitter like and retweet videos, photographs and posts using #ComeOutOfStonewall. Actions will take place between 12pm and 5pm on Friday. Even if you do not have many followers, RTs and likes can drive the Twitter algorithm to boost content.
And share beyond Twitter! Many more people use Facebook, WhatsApp and other online forums.
Be careful with the trolls. You can choose to engage with negative comments so 'lurkers' can understand some of the issues but keep your cool, hold the moral high ground and disengage, report, block and mute if the person you are speaking to gets abusive.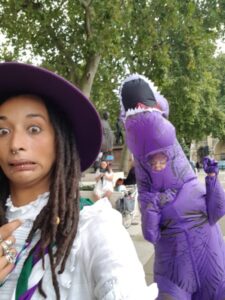 Fun with Google Maps and Reviews
A few days after the #HearMeRoar protest in London, https://staging.lesbianandgaynews.com/2021/10/hear-me-roar-protestors-demand-labour-and-the-lancet-stop-dehumanising-women-reports-mrmenno/ Twitter users realised something strange had happened to Google Maps and Reviews. Dinosaurs had appeared at the offices of The Lancet and the Labour Party, which had been the scene of the protests. Labour Women's Declaration https://twitter.com/LabWomenDec/status/1447152911583268868?s=20 and other women had left reviews, explaining why they felt hurt and betrayed by the actions of these organisations.
To do something similar, find a Stonewall Diversity Champion and have an appropriate image ready. Search for their office using Google maps. When you click on the building a photograph should pop up. Click on the photograph and an icon should appear in the top right-hand corner to 'add a photo.'
Leave a review, explaining how you feel abandoned by a charity which as supposed to support your interests, and how their membership of this scheme makes you feel. Negative reviews in such a public forum should make companies take note.
Remember the importance of personal testimony in political campaigns – a good story can breathe life into the numbers.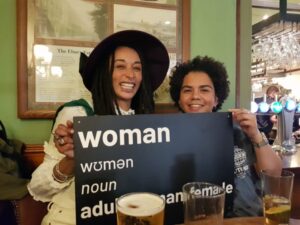 Show some love to the BBC's Nolan Investigates podcast
In news that will surprise literally no one, David Paisley is encouraging his Twitter followers to complain about the BBC's Nolan Investigates podcast. Why not leave some positive feedback and explain how important you feel this piece of investigative journalism is? Contact the BBC at: https://www.bbc.co.uk/contact/comments-feedback/#/Your%20comment
If you haven't done so already, take a listen and share in your networks. It may be a good way to open up this difficult conversation with your friends or family.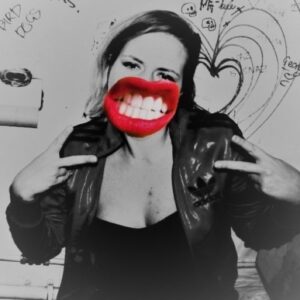 D.J. Lippy
The protest in London will be streamed on the Make More Noise YouTube channel on Friday from around 12pm. You can subscribe here: https://www.youtube.com/channel/UC2cewCgBfLMKNpy0Iae8cWg
If you would like to support the future events, terfasaurus has set up a crowd funder to support this action and any future events at: https://www.crowdfunder.co.uk/terfasaurus-the-sex-based-rights-hoarder
Join us in London, Belfast or Edinburgh and if you are unable, watch at home by following the #ComeOutOfStonewall.