Miriam Ben-Shalom is the first openly lesbian service member to be reinstated by the U.S. Army after she was discharged in 1976 for being gay. For International Women's Day this Monday, Jo Bartosch spoke to Ben-Shalom about her military career and her campaigning for the rights of women and girls.
Miriam Ben-Shalom is what Americans would call 'a badass.' Everything about her is direct; at 72 her gaze is unwavering, her opinions clear and it seems prudent to assume her aim with a hunting rifle is still sharp. I spoke with her about coming out as lesbian on television in the 1970s, her battle against the US military and the pioneering work she does today to protect the rights of women and girls.
When Ben-Shalom joined the military in 1974 protests against the Vietnam war were in full-swing; in the midst of the counter cultural revolution, pledging to protect America was not a popular move with her fellow left-leaning feminists. With a dry laugh she recalls she was told there was "no space for baby killers and GI Janes in the women's movement." Undeterred, Ben-Shalom enlisted in the 84th Training Division and became one of the first two female drill sergeants to graduate.
When Ben-Shalom's commander asked her "are you a homosexual", she responded with characteristic candour "well the word for me would be lesbian. But yes, I am." That moment changed history, setting her on a course to become the first out person to be reinstated after being discharged under the military's policy excluding lesbians and gay men from military service.
Interestingly, given the prohibition on homosexuals in the army, there were no moves to discharge her until a short while later, when she came out publicly on live television. Ben-Shalom had been emboldened by Leonard Philip Matlovich, an airman whose uniformed portrait appeared on the front of Time magazine in 1975 with the headline "I am a homosexual." She recalls her fellow soldiers referring to Matlovich as "a fag" and her reply, "he's a good airman what difference does it make?"
Just as Ben-Shalom was graduating from drill sergeant school, a local television reporter caught up with her and asked her how it felt to be a lesbian in the military. She answered honestly and her response caught the attention of her superiors; she was given an honourable discharge after two years of her three-year tour of duty.
Back at base her lesbianism marked her out for harassment, and even attempts on her life.  
"When I first came out in the army I got phone threats from people in the military. I went to my commanding officer and said if they want to rock and roll, let's do it. Let's assign a place and a time; I'll take them on. I'm not going to tolerate being threatened by people in the military."  
She also had threats from civilians.
"I was shot at and I had someone try to kill me with an ice pick. Someone messed with the truck I was driving at the time; they loosened the lug nuts and if the tyre had come off when I was on the expressway I probably would have died…It was hard. It was very difficult. But I got through it."
"I made it very clear when I came out that I was not looking to necessarily make a point. What I wanted was my job back. I didn't want to sashay down the main drag of a military base wearing lavender fatigues, I just wanted to serve."
Ben-Shalom is keen to point out that in the court documents she was never accused of misconduct. Following discharge, she spent eleven years campaigning before being reinstated:
"I made it very clear when I came out that I was not looking to necessarily make a point. What I wanted was my job back. I didn't want to sashay down the main drag of a military base wearing lavender fatigues, I just wanted to serve."
Ben-Shalom's dismissal was overturned in 1980 but the Army refused to comply until they were threatened with fines by the Court of Appeals seven years later. Ben-Shalom reenlisted.
"After 11 gruelling years of fighting, I became the first lesbian to be reinstated to the military after being discharged honourably the first time around. It showed me that one person can make a difference."
The Army subsequently challenged her reenlistment, and in 1990 Ben-Shalom was discharged for a second time and her military career was ended. In a cruel twist she was denied the pension and benefits usually granted to veterans. Ben-Shalom isn't bothered about not having a military pension, but she is clearly still irked by the injustice as her conduct had been exemplary.
"I'm going to write to President Biden and find out whether there's anything that can be done. I don't want any benefits. I don't want to use the VA [Veterans' Administration]. I don't want anything like that, but I'd like a discharge to show I did nothing wrong."
A devout Jewish woman, on leaving the Army she considered becoming a rabbi but opted for teaching instead, thereby embarking on a career in education that lasted for 37 years. She tells me "the word Rabbi means teacher so in my own way, I've been one."
Ben-Shalom has always been politically active; a founder member of the Gay, Lesbian and Bisexual Veterans of America (GLBVA), now called American Veterans For Equal Rights (AVERT), she fought the policy of 'Don't Ask Don't Tell', leading to her arrest outside the White House on two occasions.
"I've organised rallies, shown up and stood up too. I've risked jail time and criminal charges on behalf of my brothers and sisters in the LGB community."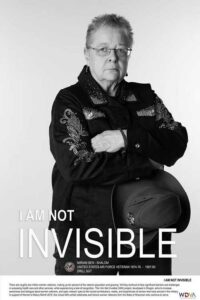 More recently Ben-Shalom has become a powerful voice in the fight for sex-based rights, travelling across the world and forging alliances to raise awareness of the threat of men identifying into the category of woman. She explains:
"I don't think transgender people should be discriminated against but neither should women and children. I think what these people seem to have forgotten is that if you want respect you have to be prepared to give respect."
The nub of the issue is that male patterns of violence and behaviour remain the same regardless of whether men adopt transgender identities. Furthermore, for many 'trans women' there is often a fetishistic driver to their wish to be seen as female. This truth is at odds with the mainstream narrative. As Ben-Shalom notes:
"People can live as they want. They can dress and call themselves what they want. But I'm not going to be forced into buying into their delusions. I could say I was purple and green with little orange polka dots but it wouldn't make it true."
"The denial of science is an abomination. I simply can't understand why doctors and medical personnel are buying into this codswallop. It does not compute in my mind."
One of Ben-Shalom's primary concerns is the impact of transgender ideology on children. In the US increasing numbers of children, particularly those who naturally defy sex stereotypes, are being put on a medical pathway to resemble the opposite sex. Some estimates suggest there are now around 800 gender identity clinics in the US, up from 50 just a few years ago.
"Children should not be experimented upon by infusing them with puberty blockers to keep them from growing up. Children should not be operated upon and have body parts removed because they 'feel' they are something other than what they are, and they should not be subjected to a lifetime of ill health because of Big Pharma's chemicals."
Controversially, Ben-Shalom argues that paedophilia, Munchausen by Proxy, or not wanting a gay or lesbian child may sometimes be factors leading to parents encouraging their children to identify as the opposite sex.
Ben-Shalom might have been forced to leave the army, but she was never de-platformed for her belief that lesbians, gays and bisexuals have a right to serve alongside heterosexual soldiers. Conversely her views of transgenderism have seen her 'un-personed' by some on the woke left. It was when her invitation to lead Milwaukee Pride as 'Grand Marshall' was rescinded that she began to really question the power of the transgender movement. She explains:
"I have rules for those who comment on my Facebook page; basically as long as you don't threaten anybody you're allowed to civilly say what you wish to say. I had seen a picture of an individual, a human being who wished to be referred to as 'it.' Please understand, I'm not being insulting by referring to this person as 'it.' It has had its nose cropped its ears cropped and facial tattoos to resemble a dragon. Other people civilly discussed this person who, before identifying as a dragon, had identified as a transgender woman but I didn't know that."
"Because of what other people said on my Facebook page I was accused of being 'a transphobe.' It's a ridiculous word, I'm not phobic of trans people; I'm not afraid of anyone."
The organisers of Milwaukee Pride didn't tell Ben-Shalom directly.
"I had to find out about it through a backdoor channel. They didn't tell me, so I wrote to them. Bloody yellow-bellied cowards."
Since her cancellation from the Milwaukee Pride parade Ben-Shalom has received considerable harassment online, though she doubts the perpetrators would have the guts to be abusive to her face.
"Those people are not in my life or not important to me in any way – why would I take their judgment of me into account? I frankly don't give a damn what they think. Their words simply do not hurt me because their words are not germane to me or my life."
"I don't understand why women don't see that that being nicey-nicey isn't going to get us anywhere. Sometimes you've gotta be blunt. You've gotta be forceful. If it looks like a shovel and works like a shovel, well, then it's a shovel. And if it looks like an asshole and acts like an asshole, well, it's probably an asshole."
As a former soldier criticism generally rolls off Ben-Shalom, though it was anti-Semitic abuse that made her realise there was something different about the behaviour of transgender activists.
"Finally, being told that I should go crawl back into the oven where I belong because I'm a Jew was the peak."
Ben-Shalom is both deadpan blunt and wickedly sharp. Bemoaning the politeness of women as an impediment to liberation she says:
"I don't understand why women don't see that that being nicey-nicey isn't going to get us anywhere. Sometimes you've gotta be blunt. You've gotta be forceful. If it looks like a shovel and works like a shovel, well, then it's a shovel. And if it looks like an asshole and acts like an asshole, well, it's probably an asshole."
The idea that one's sex can be changed is clearly frustrating to Ben-Shalom and she rails against the lack of logic of transgender ideology.
"Our legislature yesterday put forth in Wisconsin a bill to make sure sports is segregated by sex. It made sense because it's not fair to ask a 6 foot 2 inch man to play basketball with five foot five girls. Of course, the governor went right out and condemned it saying, 'We want our trans kids to feel like they belong here and to play sport in their correct gender.'"
A left-leaning feminist, Ben-Shalom admits to feeling 'politically homeless' explaining:
"I can't be a conservative because I support abortion rights for women and number of other things, and yet I can't be of the left because I don't subscribe to lies and misrepresentation and misinformation."
Her most recent projects have seen Ben-Shalom forging alliances with those on the religious and conservative right. Alongside evangelical Christian Kaeley Triller Harms, in 2017 Ben-Shalom founded Hands Across the Aisle Coalition, (HATAC) a collection of "radical feminists, lesbians, Christians and conservatives that are tabling our ideological differences to stand in solidarity against gender identity legislation." Ben-Shalom is also on the board of the Compassion Coalition, which brings together people from across the political spectrum to oppose the medical transition of children.
She tells me that working on the right has been a transformative experience.
"I felt that by finding common ground we could work together on an issue and maybe actually get something done. Education is taking place; conservative women no longer see a person like me as 'the lavender menace.' On the other hand, I don't look at all conservatives and say 'oh my God, you know you want to put me in a concentration camp and take away my right to marry.' What has happened is our minds have opened-up and we have found that we have other areas of common ground now, that's pretty decent. What's even cooler about it is that all of this has taken place with civil discourse."
I have interviewed Ben-Shalom as a feature for International Women's Day. The UN chosen theme is "choose to challenge", unlike the career feminists celebrated by the corporate world Ben-Shalom has chosen to challenge power and orthodoxy throughout her life. She is a true warrior woman; a person of great integrity, conviction and courage.
The older I get the more I understand why older women are belittled as 'fragile old dears.' Older women are dangerous to the status quo. Unencumbered by the need to 'be nice' to men, without time for bullshit and with a heft of life experience, Gloria Steinem's astute observation that "Women may be the one group that grows more radical with age" nailed a universal truth. Having said that, it is hard to imagine Ben-Shalom being anything other than honest. Just as I am preparing to end the Zoom call, Miriam Ben-Shalom tells me:
"I don't fear any God. I don't fear any man. I don't fear any woman. The only thing I'm afraid of is a gun pointed at me."
There was not a doubt in my mind that this was the absolute truth.
Jo Bartosch is a writer and campaigner for the rights of women and girls.